Roof Replacement In Wurtsboro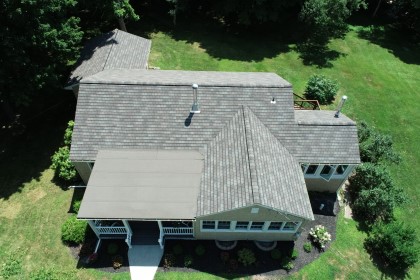 The homeowner had a friend look at their roof, which said the shingles were not installed properly. The homeowner also noticed some ceiling stains on the back side of the house, and some leaks from the flat roof in the front, a roof replacement was needed. It was important to repair the roof before more damage occurred in the home, and to protect the contents of their home. We removed the entire roof, and inspected for plywood that needed to be replaced. Drip edge was installed at all roof edges, ice and water shield at the lower eaves at least 2 feet inside the warm wall of the home. Ice and water shield was also installed 18 inches wide on all roof to wall transitions, 3 feet in the valleys, on roof penetrations and chimney flashings. In installing Ice and Water Shield, extra protection will be provided against wind driven rain and ice dams. We installed GAF Lifetime Slateline shingles along with matching hip and ridge shingles in accordance to the manufacturer's specifications and used 6 galvanized roofing nails per shingle. On the flat roof, GAF Liberty roofing systems were installed. Once the work was finished, the area was swept, all gutters, downspouts were cleaned and any gutter spikes were secured. The job took about 3 days to finish.
---
*Brand Used: GAF
---
*Service Used: Roof Replacement
---
Project Video
Music: A New Beginning from Bensound.com
Roof Replacement in Wurtsboro, NY Project Gallery
---
Recent Articles
Common Signs That Indicate You Need to Replace Your Roof

Over time, your roof is bound to suffer some pretty nasty wear and tear, and in time, this wear and tear can put your roof past the point of no return. At that point, you'd have no choice but to get a roof replacement. How, though, can you know that you for sure need a…

Read More

Professional Roofing Contractors Providing Energy Efficient Middletown Skylight

Professionally installed skylights provide many benefits to Middletown property owners. The most obvious benefit of a skylight installation is the fact that your home or business will have increased natural lighting. This aspect substantially increases you and your family's enjoyment of your interior living spaces. For commercial properties, it enhances the beauty of your business's…

Read More

If you are looking for Roof Replacement services in Wurtsboro, NY, call Serrano II Inc at 845-692-2226, or fill out our online request form.