Expert Goshen Roofing Contractor that Goshen Residents Can Rely Upon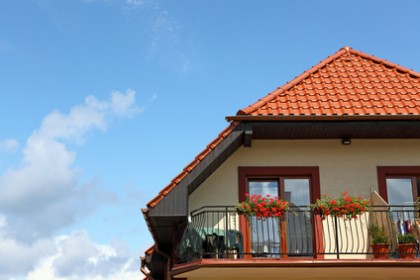 Building upon a family tradition that goes back to 1968, the professional roofing contractors at Serrano II Inc have proudly develop a reputation as the preeminent roofing contractors in Goshen. Our team has developed this reputation by putting our best effort forward into every project we undertake. We take an immense amount of pride in our work, and the results are evident in the quality of our roofing services.
Our Goshen Roofing Contractor understands the importance of your family home or business. You residential or commercial roof is an integral system to these properties. The residential roof protects and provides comfort to your family. The commercial roof ensures that your business can be productive. As such, we are constantly humbled by the fact that Goshen residents trust us with their most valuable possession.
We are honored that we have been trusted for so long. Our Goshen Roofing Contractors strive to honor that trust by treating each project as if we are conducting it for our own home. With this mentality, we can guarantee you that you will be completely satisfied with our exception roofing services.
Call us today if you need to hire a professional roofer in Goshen. Our pleasant Goshen Roofing Contractor is always happy to discuss our wide range of roofing services with you. We would gladly answer any questions that you may have about your property or our services. We would be ecstatic to schedule your appointment today.
Goshen Roofing Inspections and Repairs
At Serrano II Inc, our roofing services are aimed at fulfilling two objectives. First, we are constantly trying to improve the aesthetic of the exterior of your property. Seconds, we work our hardest to ensure that your property is protected for the longest time frame possible.
In order to ensure that your roof reaches the maximum service life, it is important that you conduct routine roof inspections. Because roof damage occurs gradually, roofs often suffer from non-apparent damage that can cause substantial problems. Our professional roofers can identify and repair these problems before significant damage occurs, thus extending the life of your roof.
Goshen Roof Replacements
When the time does come for you to replace your commercial or residential roof, our premier roofing contractors have the skills, knowledge, and experience to help you. Our staff will work with you at every stage of the roofing project to ensure that you are getting the most highly customized services possible. Our Goshen Roofing Contractor will educate you as to a wide range of roofing materials and styles so that you can make the right choice. Our roofing contractors follow the best installation practices to ensure that your roof will stand the test of time.
What Goshen Customers Say About Us
Serrano II Inc. is Rated: 5 / 5
based on these 2 happy customer reviews.
---
"I can't recommend them enough! I was impressed from beginning to end. They delivered exactly what they promised. The crew was on time, neat and very hard working. Everyone I dealt with was professional and polite. This is a company that still values honesty and hard work. Thank you!!"
---
"Just a quick note about the roofing job you just finished for us! I heal all these horror stories about contractors who don't show up, do sloppy work or rip you off. You and your people are the exact opposite of these bad examples. The crew showed up Tuesday morning and were professional and polite. They took pride in their work and went above and beyond in protecting out property (and our cats). They did the job exactly as you quoted and it turned out even better than I expected! The new roof looks beautiful. I will be more than happy to recommend you and your company to anyone. Thanks again for making this such a good experience."
---
If you need to hire a professional Goshen Roofing Contractor, call Serrano II Inc at 845-692-2226, or fill out our online request form.