Professional Skylight Installation Contractor in Middletown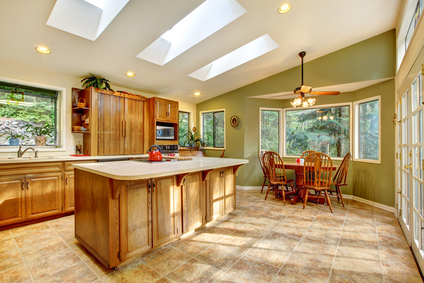 If you have been considering ways to improve the aesthetics of your Middletown property, you should think about hiring our Skylight Installation Contractor in Middletown. These features provide many benefits to both residential and commercial properties. They beautify the exterior of your property while improving the indoor living spaces. When you install skylights or sun tunnels, it is important to hire a professional contractor with a great deal of experience.
Our Middletown Roofing Contractor has over thirty years of experience installing skylights and sun tunnels in the local area. We are a second generation family business that has a tradition of providing the highest quality construction and building services since 1968. Our professional roofers take an immense amount of pride in their work, and that pride results in the most beautiful and highly functional skylights and sun tunnels.
Our roofing contractors have an immense amount of knowledge when it comes to skylights. We can help you make important nuanced choices when it comes to the design, size, directional placement, and materials to enhance the beauty of your property, improve its living spaces, and to maximize energy efficiency. Our staff is professionally trained and licensed so you can feel confident that we will get the job done correctly the first time around.
Call us today if you are interested in installing skylights or sun tunnels in Middletown. Our polite and courteous staff is always happy to answer any questions that you may have, and we would be ecstatic to schedule your appointment today.
Professionally Designed Skylights in Middletown
A professionally installed skylight system can completely transform both the interior and exterior of your property. These systems allow pleasant natural light into the home. They also improve the ventilation and comfort that your family feels within their living spaces. Our Skylight Installation Contractor in Middletown will also enhance the aesthetics of the exterior of your property. With the help of our professional Skylight Installation Contractor in Middletown, you can feel confident that you will get the most beautiful skylight system that maximizes all of these wonderful benefits.
Exquisitely Unique Sun Tunnels in Middletown
Sun tunnels are a wonderful way to beautify the interior living spaces of your Middletown property. The sun tunnel captures natural light and sends it to the room of your choice. The unique design provides an economical approach to bringing natural light into your home. At the same time, this design stands out as a bold addition to your property that sets your living spaces apart from conventionally lit rooms. You and your family will love the benefits of our professionally installed sun tunnels for years to come.
Recent Articles
Professional Roofing Contractors Providing Energy Efficient Middletown Skylight

Professionally installed skylights provide many benefits to Middletown property owners. The most obvious benefit of a skylight installation is the fact that your home or business will have increased natural lighting. This aspect substantially increases you and your family's enjoyment of your interior living spaces. For commercial properties, it enhances the beauty of your business's…

Read More

Latest Projects
If you need to hire a professional Skylight Installation Contractor in Middletown, call Serrano II Inc at 845-692-2226, or fill out our online request form.