Professional Middletown Metal Roofing Repairs & Maintenance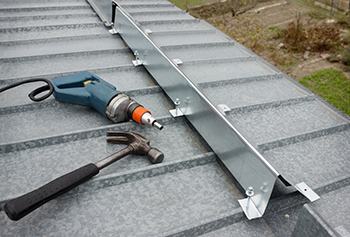 As anyone who has ever opted for can tell you, this is the option you want to go with if you are looking for a roof type that will maximize durability and longevity, while helping to minimize your need for repairs and maintenance. Because it offers the most durability of any roof type, and requires so little maintenance, metal roofing is one of the most versatile and high quality protection solutions you can get for your home. When it comes to finding a contractor to take care of all of your needs, the only name you need to know is that of the Middletown metal roof repair & maintenance contractors at Serrano II Inc.
Since 1968, we have been the area's premier choice when it comes to helping local home and business owners take care of all of their roof service needs. We take a great deal of pride in all of our work, and it shows in our dedication to providing each and every one of our customers with the high quality services they need. The roof of your home is quite possibly the single most important exterior surface on your home, and forms its first line of protection against the weather and elements, so it pays to make sure that you roof gets the care it needs as quickly as possible in the event that it suffers any kind of damage.
If you have any questions about our line of quality metal roofing repair and maintenance services, or you would just like to schedule your service appointment, give us a call today. Our team of professionals are always standing by and ready to help in any way they can. We are looking forward to working with you.
Metal Roofing Repair Specialists In Middletown
Here at Serrano II Inc., our team of metal roof repair contractors know how to spot and repair the issues that many other roofing contractors might overlook. One of the most common issues with any roof is leaking, and these can be caused by a wide range of different factors. From hail damage, to aging, or even a lack of maintenance over an extended period of time, your metal roof is subjected to so many things over the course of its lifespan that issues are going to eventually pop up, no matter how much more durable it is than other forms of roofing. If repairs are what you need of your Middletown home's roof however, the professional metal roofing repair and maintenance contractors at Serrano II Inc. are the experts to call when you want high quality and fast results. We act quickly with all of our jobs in order to minimize the damage to the rest of your property that can result from a damaged roof. When you suspect there might be issues with your home or business's metal roof, don't take chances or settle for a cut-rate roofing contractor, make sure you have the best with the professional roofing contractor at Serrano II Inc.
Middletown Metal Roofing Service
If you know that you are going to be needing professional metal roofing services for your Middletown home or business, you can count on our team of professionals to take the work seriously, and get you the repairs you need to ensure that your metal roof can continue to protect your home or business for a long time to come. Your roof protects the entirety of the rest of your property, as well as the people inside, so make sure that you only entrust your repairs to the experts.
If you are looking for professional Middletown metal roofing repairs & maintenance, give us a call today at 845-692-2226 or fill out our online request form.