Roof Replacement in Slate Hill, NY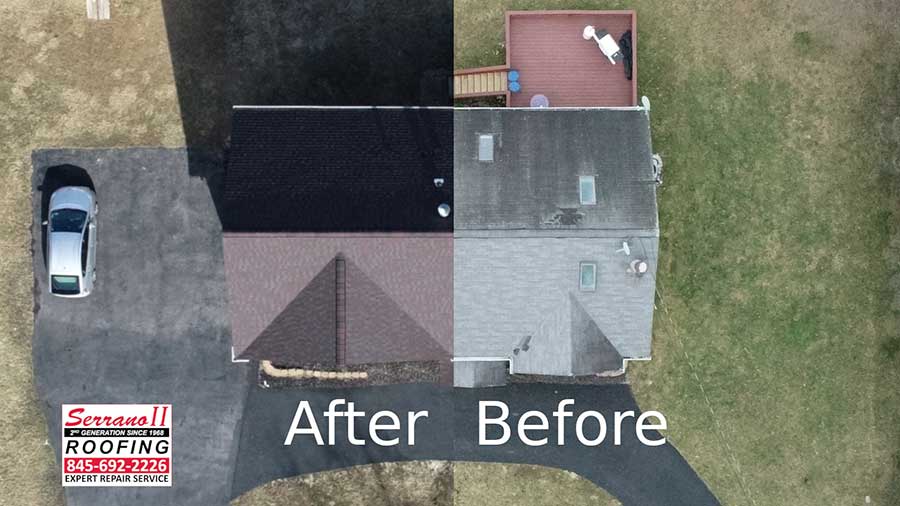 The homeowner had recently bought the home and wanted to replace the roof. He was made aware that it needed replacement. As it may be seen in some photos, the roof damage was not leaking yet. It was important to get on top of it before damage could occur. We first removed all of the shingles from the entire roof. If there were any, we would have replaced all damaged plywood. Next, we began installing GAF Weather Watch 2 Ice and Water Shield along with rakes, eaves, and valleys starting on one side. It is crucial to install Ice and Water Shield to keep wind-driven rain, which can travel below the shingles, from reaching any plywood or felt paper and causing damage. Next, we installed GAF Shingle Mate felt paper over the rest of the exposed plywood. The felt paper helps keep moisture from the home from building up between the shingles and plywood by allowing it to flow between. Typical organic felt paper uses wood fibers as its base, which can wrinkle or buckle when exposed to moisture either over time, or if left exposed to water between its installation and shingles. This can potentially leave roofs lumpy.
Shingle mate improves upon standard felt paper by reinforcing with fiberglass, which helps prevent these wrinkles from occurring. New Velux skylights were installed in place of the old ones. After this, we are ready to install shingles onto the roof. On this project, we used GAF's Timberline American Harvest Line of architectural shingles in Midnight Blush. The American Harvest line comes with Stain Guard Plus technology. As many roofs age, spots where water often accumulates or areas that don't get much sun tend to grow algae. This can potentially reduce the life of your roof and leave dark stains on the roof. Stain Guard Plus helps reduce algae growth by incorporating granules with copper and zinc into the shingle's surface. Once shingles were installed on the entire roof, a cut was made into the ridge to install a ridge vent. The Ridge vent will ventilate moisture out of the attic, which can help prevent a sleuth of problems in the future. On top, GAF Timbertex Ridge Cap was installed in Midnight Blush to top off the roof. New Velux Skylights replaced the old ones. Once finished, the site was swept for debris, and the job site was cleared out. The project took about four days to complete.
---
*Brand Used: GAF, Velux
---
*Estimated Budget: $15,000
---
Roof Replacement Project Gallery
Roof Replacement Project Video

Royalty Free Music from Bensound
Recent Articles
Professional Roofing Contractors Providing Energy Efficient Middletown Skylight

Professionally installed skylights provide many benefits to Middletown property owners. The most obvious benefit of a skylight installation is the fact that your home or business will have increased natural lighting. This aspect substantially increases you and your family's enjoyment of your interior living spaces. For commercial properties, it enhances the beauty of your business's…

Read More

Common Roofing Problems

Roofing problems can occur at any time, and they might be virtually unnoticeable to the average homeowner, but they always need to be repaired as soon as possible. Any problems with your roofing can quickly grow into major issues for your home, so it's very important that you take care of them as soon as…

Read More

If you are looking for roof replacement services in the Slate Hill area, call Serrano II Inc at 845-692-2226, or fill out our online request form.