Roof Replacement In Pine Island, NY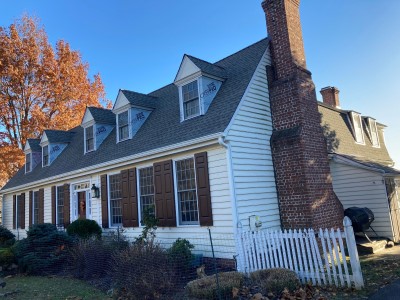 The homeowner decided to get the roof replaced as it was getting older, and the homeowner wanted to get on top of it before age became a problem. It's advised to replace asphalt shingle roofs every 25 years. Over time granules start to come off of the roof and shingles begin to deteriorate. We first ripped the original roof and disposed of the material into our dumpster. This roof took more time than many other shingled roofs because of the surface area, and the steep slope of a few sides of the home. You can find a few good examples of how steep the roof was in the photos. We first worked on the home using scaffolding on the steep slopes as we can't just stand on these areas. A combination of scaffolding and secured harnesses made it possible to rip the old roof and to be safe while we worked. Once the old roof was removed, our men inspected the plywood to ensure it was in good condition and safe to use. If water leaked behind the shingles from the old roof, or from unknown damage to the roof, the plywood may have been weakened as a result. It's important to replace damaged plywood because it could lead to more damage down the line. This is why we install single layers of shingle rather than multiple layers. Some contractors will skip ripping the roof, and instead install a new layer of the roof on top of the old one. This cuts the cost of removing old shingles, installing any plywood in need of replacement, and new underlayment. Because of this, often when installing a new layer, we may not find damaged plywood left from previous damage. In addition, contrary to what you may think, two or more layers of shingle are not any more protective towards leaks. When installing the second layer of shingle, the first is pierced by the nails needed to secure it. This makes the first layer helpless if the top layer leaks or is damaged. Also, on a multi-layered roof, movement within the roofing system is more likely to result in damage. Additionally, some building departments don't allow you to install a multi-layered roof under building code. Many material manufacturers won't warranty this kind of work since it's less likely to last than a proper single-layer installation, and since many building departments won't allow it. Single-layer roofs may be more expensive in the short term rather than installing a second layer of shingle, but they will last longer, can be put under warranty, and will always be allowed by your local building code. We used GAF branded Ice and Water Shield. Weather Watch is the line we decided to use which qualifies for all of GAF's warrantied roofing systems. Many building departments also require ice and water shield because it helps protect the roof from wind-driven rain during rainy weather and Ice dams during the winter. When replacing roofs without Ice and Water Shield, you'll often see damaged plywood near roof edges because of this. On lower slope roofs, it's more important to have a completely covered roof decking as water will often slip beneath the shingles. As discussed, nail penetrations in roof shingles will allow water beneath, but Ice and Water Shield will adhere to nails and penetrations making a water-tight seal. Any decking left exposed unless the slope is too low, will be covered with felt paper. We use Shingle Mate synthetic felt paper underlayment. Shingle Mate is reinforced with fiberglass, making it more resilient to wrinkling. Felt paper is used to help prevent moisture buildup within the roofing system. Often, kitchens, bathrooms, and other rooms where water is present will produce moisture within the home. Some of this moisture can make its way to the roofing system which felt paper helps reduce. Felt paper can begin to wrinkle and buckle over time due to the moisture, which fiberglass-enforced felt paper will be much more resistant to. The homeowner decided to use GAF Timberline HDZ in Weathered Wood color for their roof. We use GAF's Timberline roof shingle line because it features a great set of protection. Timberline HDZ shingles come with Stainguard Plus protection which helps prevent algae stains on your roof. Over time, roofs may develop a dark discoloration, which is a product of algae. Specifically when your home has spots that are underneath the shade, or that are less often face sunlight will be more prone to develop roof stains. Learn more about stain guard in the videos below. Another great feature of the Timberline HDZ shingles is that they have Dura-Grip sealant. Dura-Grip is applied to the back of the shingles, and seals between overlapping shingles once installed to help prevent shingle blowoff. See GAF's Stress test below. Once the roof was installed, we swept the area for debris and packed our equipment. It took about a week to finish the entire project including the shed roof.
---
*Service Used in Project: Roofing Replacement
*Estimated Budget: $45,000
*Brands/Materials used: GAF
---
Roofing Replacement Gallery
Roof Replacement Videos
Recent Articles
Why Our Middletown Roofers Recommend The Decra Stone Coated Steel Roofing Systems

If it's time to replace the roof of your Middletown home, consider installing the Decra Stone Coated Steel Roofing System. This is one of our favorite roofing materials at Serrano II, Inc. because it stands up well to high winds and the wet and cold New York climate. Our Middletown roofing company has done a…

Read More

3 Roof Maintenance Tips You Should Know For Summer

Summertime is right around the corner, and that means warm weather, family trips, vacations, and backyard barbecues among many other things. In addition to the warmer weather and blue skies that most of us dream of, we can also expect the usual summer showers that inevitably pop up during the warmer months of the year.…

Read More

If you are looking for roofing services in the Pine Island area, call Serrano II Inc at 845-692-2226, or fill out our online request form.