Hunter Green Roof Replacement In Wurtsboro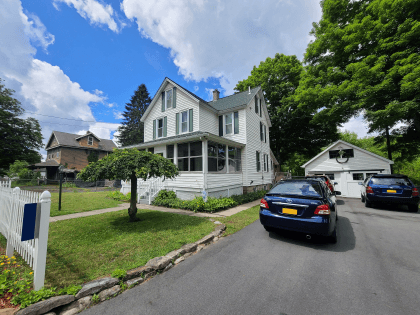 As roofs get older they eventually need to be replaced. If installed correctly, roof should last around 25 years. In this case the roof was 25 years old, thus the homeowners wanted to be proactive in preventing potential issues.
We removed the entire roof and inspected for any damaged plywood that needed to be replaced.
White Berger Long Face Aluminum drip edge was installed at all roof edges. This will help prevent water from entering under shingles at roof edges which can cause plywood to dry rot.
GAF Intake Pro ventilation was installed at the eaves.
GAF Weather Watch Ice and water shield was also installed minimum 6' on the eaves, 18 inches on all roof to wall transitions including the rakes, 3' feet in valleys, on roof penetrations and chimney flashings. Ice and water shield can give extra protection against wind driven rain and ice dams.
GAF Weather Blocker Starter Strip was installed on all roof edges. We installed GAF Lifetime Timberline Layerlock HDZ shingles in Hunter Green.
All new step flashing and counter flashing was installed at the walls.
GAF Snow Country Ridge Vent was installed at the peaks with the GAF Seal A Ridge ridge caps in Hunter Green.
New Neverleak Aluminum pipe boot flashing were installed on the vent pipes.
All debris were removed in our dump trailer.
The job took about 2 days to complete.
---
*Brand Used: GAF
---
*Service Used: Roof Replacement
---
Project Video
Music: Creative Minds from Bensound.com
Roof Replacement in Wurtsboro, NY Project Gallery
---
Recent Articles
How a New Roof Will Protect Your Investment in Campbell Hall

There are things to be made aware of with a failing roof. A Campbell Hall roof replacement can happen at any time and for a variety of reasons. According to the NRCA (National Roofing Contractors Association), annual roof inspections are necessary in the spring and the fall. A roof should be replaced whenever you're putting…

Read More

Professional Roofing Contractors Providing Energy Efficient Middletown Skylight

Professionally installed skylights provide many benefits to Middletown property owners. The most obvious benefit of a skylight installation is the fact that your home or business will have increased natural lighting. This aspect substantially increases you and your family's enjoyment of your interior living spaces. For commercial properties, it enhances the beauty of your business's…

Read More

If you are looking for Roof Replacement services in Wurtsboro, NY, call Serrano II Inc at 845-692-2226, or fill out our online request form.