Solar Panel Cleaning Services in Middletown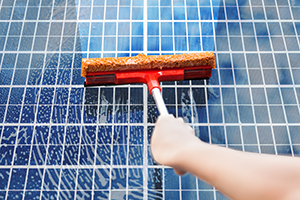 Because a solar panel will help to greatly lower your Middletown home's electric bills, you need to take every measure you can to keep it working as efficiently as it can. One effective measure you can take is to get routine solar panel cleaning to ensure that your panels are always capable of fully providing all the benefits they are able to provide:
Money savings
Energy efficiency
Dependable electrical supply
By getting regular solar panel cleanings, you can be sure that your Middletown home is fully equipped to enjoy all of those benefits. If you're in the market for thorough solar panel cleanings from a dependable expert, then call the local roofing contractors and panel-cleaning pros at Serrano II. In addition to our quality roofing services, we also offer unbeatable panel-cleaning work.
Ensure That Your Solar Panels Work As Efficiently As Possible
People get solar panels for two reasons: to lower their energy bills and to reduce their carbon footprints. Of course, your solar panel will be able to allow you to enjoy these benefits only if it works its best. Unfortunately, your solar panel is bound to work far less than its best over time as all manners of dirty buildups prevent sunlight from efficiently powering it:
Dust buildup
Bird droppings
Various debris
While you can't do anything to stop these nasty buildups from affecting your panels' performance, you can take steps to remove them. The easiest and most effective step is to get a professional solar panel cleaning. This service will keep your panels sparkling clean so that they can work their best.
Avoid the Hassle — Leave Your Solar Panel Cleaning to Us!
Getting up on your roof with all the equipment you need to clean your solar panels can be something of a balancing act — and a dangerous one at that. On top of the danger associated with this chore, your own results might not be sufficient for removing all the grime mucking up your solar panels.
If you want to stay safe and enjoy the best results, you need to leave your solar panel cleaning to the experienced pros at Serrano II. We'll provide quick and thorough results that will allow you to fully enjoy all the great benefits that a solar panel cleaning can provide your Middletown home.
If you need solar panel cleaning services in Middletown, then call Serrano II Inc at 845-692-2226 or fill out our online request form.