Roof Replacement with GAF HDZ in Pewter Gray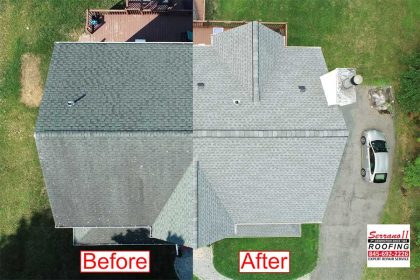 The customer found water coming into the home through attic. The chimney also had missing siding where there was some water coming in through. It's important to get this fixed as water has already entered the attic. This could potentially cause more problems than just damaged plywood.
Ripping the Shingles
We first ripped the layer of shingles down to the plywood. Contrary to what you may think, multiple layers of shingles does not make the roof better protected. If there is any damage to the roof, a second layer of shingles could potentially amplify the damage since any movement could easily remove nails from plywood. Also, since the first layer will have nails through it, this completely nullifies its ability to be water tight. Adding a second layer of shingle will not allow us to check for damaged plywood beneath the shingle. There's always a chance that plywood is damaged since most people replace their roof after they notice a leak. The best way to check for damaged plywood is by ripping the entire roof since plywood may not show damage from beneath. Luckily, we were able to determine that only one sheet of plywood was damaged and needed to be replaced. Since this wasn't done before, we installed a cricket on the chimney which is used to prevent pooling of water between the upper part of the roof and the upper side of the chimney.
Installing Underlayment
GAF Weather Watch Ice and Water shield was installed along roof rakes and eves. Ice and Water shield acts as a second layer of protection in case wind driven rain seeps below the shingle. Any other exposed plywood was covered with GAF Shingle Mate Fiberglass Felt Paper. Throughout the year, moisture can build up sourcing from cooking, bathrooms, etc. Felt paper helps keep this moisture from building up between the shingles and plywood. When exposed to excessive moisture either over time, or if left exposed to water before shingles are installed onto the roof, felt paper can wrinkle and can potentially leave the roofs lumpy. The advantage of using GAF Shingle Mate over Organic Felt Paper is that it can reduce wrinkling or buckling helping your roof last longer.
Installing new Shingles
We use GAF HDZ shingles in Pewter Gray to top off the roof. Throughout roofing history, many advancements in asphalt shingles have been made to help extend the life of the roof and keep homes safe. One great technology that GAF uses with their shingles is their Layer Lock technology which enhances the bond between nail and shingle, and allows for a wider nailing area making it easier to nail in the right spot on the shingle. GAF's Dura Grip Sealant applied to all HDZ shingles helps protect the home even further by creating a seal at the bottom of the shingle to the one it sits on top. This helps prevent shingle blow off during high winds. Because of their Dura Grip sealant, GAF is able to provide a 130 mph wind warranty with each and every installation. If you've ever looked at an older roof, you'll likely notice black lines running along the roof. These are caused by algae which will make these streaks worse over time. Often on roofs that are under a lot of shade, or sides of a roof that are angled such that it gets very little light may develop these stains faster. You can see in the pictures from before that one side of the roof had a significant amount of stains while the other side looked mostly a consistent color. GAF adds their Stain Guard technology to their HDZ, UHD and other lines of shingles to help fight these stains. GAF adds copper capsules developed to release copper slowly over time such that it can help prevent stains for longer.
The Final Product
Once we finished the project, we cleaned the area for any debris. The job took about two days to complete.
---
*Brand Used: GAF
---
*Estimated Budget: $13,000
---
Roof Replacement Project Gallery
Roof Replacement Project Video

Music: https://www.bensound.com
Recent Articles
Common Flat Roof Problems to Look Out For

A flat roof offers a number of great benefits for your Middletown area home. In addition to being a low-cost roofing option, it will also allow you to fully utilize the space in your home. So, a flat roof will prove to be a great investment for you, and it's an investment you'll surely want…

Read More

How a New Roof Will Protect Your Investment in Campbell Hall

There are things to be made aware of with a failing roof. A Campbell Hall roof replacement can happen at any time and for a variety of reasons. According to the NRCA (National Roofing Contractors Association), annual roof inspections are necessary in the spring and the fall. A roof should be replaced whenever you're putting…

Read More

If you are looking for roof replacement services in the Orange County, NY, call Serrano II Inc at 845-692-2226, or fill out our online request form.