Pewter Grey Roof Transformation in Scotchtown, NY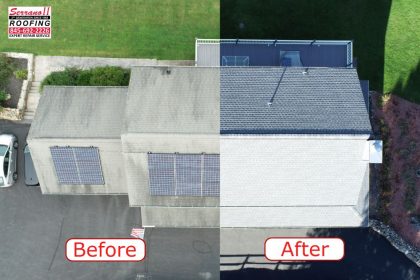 The customer had leaks in the past and at this point decided to have the roof replaced now since it's 25 years old. Shingled roofs typically last about 25 years until its recommended to replace. Most premium warranties also last the same amount of time. Over time the roof will begin to leak and damage the home. The customers had solar panels installed, which needed to come off before we could replace the roof. Once removed, we went to the job and stripped the entirety of the old roof rather than installing a second layer of the roof. Often you may see other contractors install a second layer of shingle, but when this is done many manufacturers won't warranty the roof. Some contractors still install a second layer of shingle on the old roof because it can be cheaper as there's less labor and fewer materials needed. This can potentially become a problem and will result in a roof that will need to be replaced in a shorter period than if the whole roof was ripped and replaced. One reason is that when you install a second layer of shingle, there may be some damaged plywood beneath the old roof. You wouldn't be able to tell unless the old roof was removed and the plywood is inspected. Also, if there is any movement of the components beneath the old roof, before the second layer is installed or after, this can show worse through the top layer. And when the second layer of the roof is installed, the original is completely compromised and will not provide any extra protection since nails are hammered through the bottom layer. Because of this, we removed the entire roof down to the plywood and inspect for any damaged wood. Anything that was damaged was replaced before installing Ice & Water Shield. We used GAF WeatherWatch and install it along the rakes and eves. Ice and Water shield acts as a second layer of protection in case wind-driven rain seeps beneath shingles during storms. Next, we installed GAF ShingleMate Fiberglass felt paper. ShingleMate uses fiberglass to reduce wrinkling and buckling of the felt paper to help your roof last longer. Once the underlayment was installed, we brought up all of the shingles to the roof. We use GAF HDZ shingles in Pewter Gray to top off the roof. Throughout roofing history, many advancements in asphalt shingles have been made to help extend the life of the roof and keep homes safe. One great technology that GAF uses with their shingles is their Layer Lock technology which enhances the bond between nail and shingle and allows for a wider nailing area making it easier to nail in the right spot on the shingle. GAF's Dura Grip Sealant applied to all HDZ shingles helps protect the home even further by creating a seal at the bottom of the shingle to the one it sits on top. This helps prevent shingle blow-off during high winds. Because of their Dura Grip sealant, GAF shingles can provide a 130 mph wind warranty with every installation. Once we finished we cleaned up the area for debris. We also installed the weathervane on the roof per request from the customer. The job took about three days to complete.
---
*Estimated Budget: $16000.00
*Brands/Materials used: GAF
---
Pewter Grey Roof Transformation in Scotchtown, NY Gallery
Roof Shampoo Video
Recent Articles
Shingle, Flat, & Metal Roof Comparisons

When it comes to your roofing options, three of your most common choices are shingle, flat, and metal roofs. Each roof type offers its own pros and cons, and knowing those pros and cons is essential for ensuring you pick the best roof for your home and your needs. If you're not sure what the…

Read More

Common Signs That Indicate You Need to Replace Your Roof

Over time, your roof is bound to suffer some pretty nasty wear and tear, and in time, this wear and tear can put your roof past the point of no return. At that point, you'd have no choice but to get a roof replacement. How, though, can you know that you for sure need a…

Read More

If you are looking for roof cleaning services in the Middletown area, call Serrano II Inc at 845-692-2226, or fill out our online request form.