Pewter Gray Roof in Thompson Ridge, NY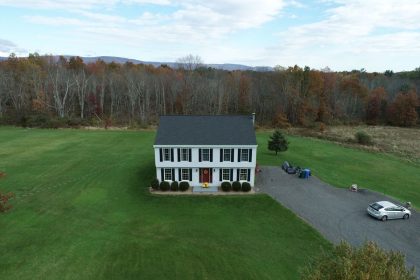 The homeowner contacted us to get the roof replaced. They noticed that a few shingles were missing and since the roof was about 30 years old they thought it was time. The typical roof will last around 25 years until you should prepare to get a replacement. If you see shingles falling off the roof, or leaks start coming through the roof you may be inclined to get a repair. In many cases, it may be worth it to replace just a few shingles to give it a few more years. In the homeowner's case, they thought it was better to be proactive and replace the roof before any damage occurred to the home. We started the replacement by removing the shingles and any old Ice and Water Shield. This was important to ensure there wasn't any damaged plywood underneath. Sometimes when shingles fall off the roof, water can reach the plywood and potentially leak into the home. Damaged wood was removed, and new plywood was installed in its place. GAF Weather Watch Ice and Water shield was installed along the roof rakes and eves. Ice and Water shield acts as a second layer of protection beneath the shingles when wind-driven rain tries to make its way up the roof at roof edges. We then installed felt paper on the rest of the area on the rest of the exposed plywood. Felt paper is used to help prevent moisture buildup beneath the shingles as sources like cooking, and bathrooms can help create moisture within the home. We used GAF Shingle Mate Fiberglass-Reinforced Underlayment felt paper. Having fiberglass makes the felt paper more resistant than traditional felt paper. Over time traditional organic felt paper will wrinkle and buckle from excessive moisture making it vulnerable to wrinkling and buckling. The fiberglass in GAF's Shingle Mate Felt Paper will help prevent wrinkles better than the traditionally used organic felt paper. Next, we installed GAF HDZ Shingles in Charcoal. GAF uses a few great technologies to make sure your roof is water-tight. GAF's Dura Grip sealant is applied to all HDZ shingles to help prevent shingle blow-off. It does this by creating a bond between the nail and shingle when the roof is installed. Once we finished installing the roof, debris was removed from the work area. It took about a day to finish the roof.
---
*Service Used in Project: Roofing Replacement
*Estimated Budget: $9000.00
*Brands/Materials used: GAF
---
Pewter Gray Roof in Thompson Ridge, NY Gallery
Roof Shampoo Video
Recent Articles
3 Roof Maintenance Tips You Should Know For Summer

Summertime is right around the corner, and that means warm weather, family trips, vacations, and backyard barbecues among many other things. In addition to the warmer weather and blue skies that most of us dream of, we can also expect the usual summer showers that inevitably pop up during the warmer months of the year.…

Read More

4 Benefits Of Metal Roofing For Your Middletown Home

If you're looking for an alternative roofing solution outside of traditional asphalt shingles, a metal roof could be for you. This kind of roofing is only growing in popularity, especially in the residential market. Metal roofing is installed in large sheets made up of all kinds of materials, including tin, steel, copper, zinc, aluminum, and…

Read More

If you are looking for roofing services in the Thompson Ridge area, call Serrano II Inc at 845-692-2226, or fill out our online request form.