Metal Roof Installation In Monroe, NY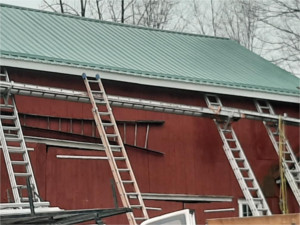 We assisted the homeowner to streamline the insurance claim process, so they could quickly come to a conclusion with the insurance adjuster and not delay the process to prevent subsequent damage to the structure and it's contents. We removed entire existing roof as was not installed properly, installed new plywood sheathing over the original wide deck boards, then installed a rib panel roof system. If you are interested in getting a metal roof replacement for you home then give us a call at 845-692-2226.
---
*Brand Used: Union Corrugating Master Rib 26 Gauge Galvalume Steel Roof Panels
---
Roof Repairs Project Gallery
---
If you are looking for metal roof replacement services in Monroe, NY, call Serrano II Inc at 845-692-2226, or fill out our online request form.