Damaged Roof Replacement in Middletown, NY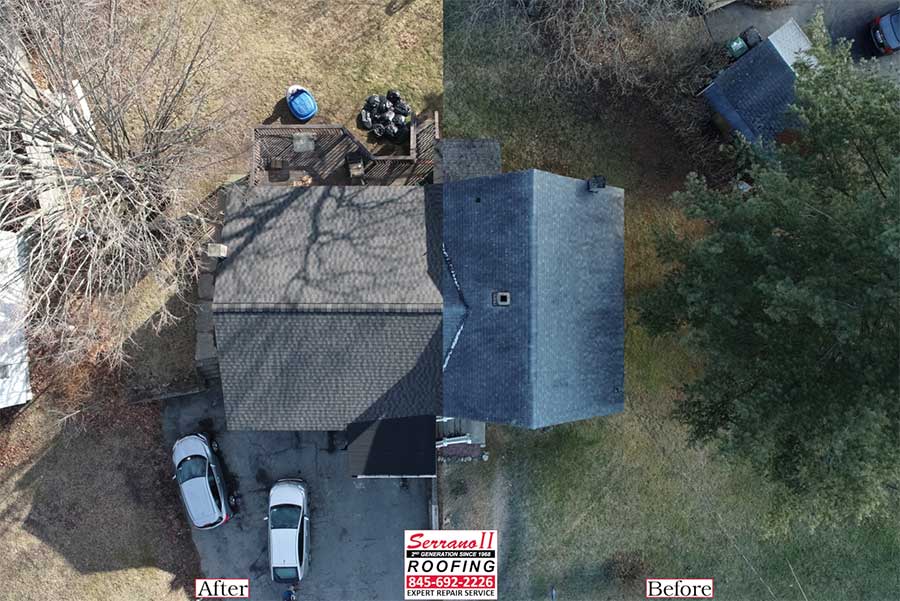 During the Christmas season, there was a rainstorm that caused the homeowner's ceiling to cave in. After investigation, they realized that some of their roof was rotted out. It was crucial to get a roof replacement as soon as possible to prevent more damage to the home.
The homeowner called Serrano2Roofing to replace the roof and ensure that it was water-tight. Rather than install new shingles on top of the old ones, we first went onto the roof and removed all old shingles. In doing so, we were able to determine how much plywood needed replacing. As you can see in some of the pictures, there were two specific spots that we removed plywood. The wood was severely deteriorated near the front of the home. All wood and debris were removed, and plywood was replaced where necessary. Next, instead of installing shingles on the porch roof, we installed GAF Liberty low slope Roofing System. It is essential to install the right product on low-sloped roofs since water can often get below shingles and travel far enough to cause damage. GAF Liberty is a three-ply self-adhering modified roof system that is specifically designed for these types of installations. We installed GAF American Harvest Shingles in the Appalachian Sky Color. GAF American Harvest Shingles come with GAF StainGuard Plus to add algae prevention and LayerLock Technology to add improved protection against wind blow-off. StainGuard Plus uses specially engineered capsules that release copper overtime fighting algae stains. Together, these technologies can help protect to keep your roof in tact for 25 years. Once finished, the site was cleared of nails and debris, and the entire job site was cleaned. It took about two days to complete the roof installation.
---
*Brand Used: GAF
---
*Estimated Budget: $17,000
---
Roof Replacement Project Gallery
Roof Replacement Project Video

Royalty Free Music from Bensound
Recent Articles
3 Roof Maintenance Tips You Should Know For Summer

Summertime is right around the corner, and that means warm weather, family trips, vacations, and backyard barbecues among many other things. In addition to the warmer weather and blue skies that most of us dream of, we can also expect the usual summer showers that inevitably pop up during the warmer months of the year.…

Read More

Repair or Replace Roofing FAQ for Middletown

It can be a stressful decision when trying to figure out whether the roof can be repaired or if it needs to be replaced. Serrano II Inc. understands that you need an honest answer when it comes to the condition of your Middletown roof. Our professional roofing contractors will always be honest with you about your…

Read More

If you are looking for roof replacement services in the Middletown area, call Serrano II Inc at 845-692-2226, or fill out our online request form.