Roof Leak Repair, Chester, NY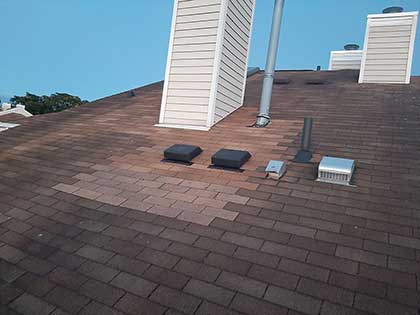 The customer called us to check out a leak. It turned out that there was a leak coming from near the chimney in the roof. It was essential to get this fixed because if left alone, it could cause damage to the structure of the home and potentially to household items. We first investigated inside the attic and from the outside. It seemed to be coming from the metal flue pipe or the nearby chimney. Once we removed shingles and underlayment from the surrounding area, we could easily see the area we needed to fix. A hole was cut in the plywood such that we could replace all damaged wood. A sheet of plywood was fit to the area and installed. New Ice and Water Shield was installed to help protect the wood from any potential wind-driven rain and to help seal between protrusions like the chimney or the box vents. New flashing was installed along the chimney to help prevent potential water from going behind the siding and leaking beneath the shingles. Using the same color shingle, we were able to seal the roof off and reinstall the siding. Although they are the same color, since we're installing new shingles on an older roof, discoloration of the original roof over time has caused the newer shingles to stand out. This is normal and can partially be attributed to algae growth, loss of granules over time, and fading of color over time. Visit our roof cleaning page to see how we clean algae off of roofs. This job usually takes about 6 hours to finish.
---
*Estimated Budget: $2,000
---
Leak Repair Project Gallery
Recent Articles
Shingle, Flat, & Metal Roof Comparisons

When it comes to your roofing options, three of your most common choices are shingle, flat, and metal roofs. Each roof type offers its own pros and cons, and knowing those pros and cons is essential for ensuring you pick the best roof for your home and your needs. If you're not sure what the…

Read More

Common Flat Roof Problems to Look Out For

A flat roof offers a number of great benefits for your Middletown area home. In addition to being a low-cost roofing option, it will also allow you to fully utilize the space in your home. So, a flat roof will prove to be a great investment for you, and it's an investment you'll surely want…

Read More

If you are looking for roof repair services in the Chester area, call Serrano II Inc at 845-692-2226, or fill out our online request form.