Church Roof Replacement in Scotchtown, NY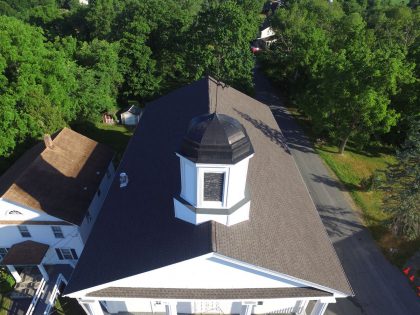 On this project, the customer decided the roof was old and needed to be replaced. As seen in the pictures, there was a visible coverage of algae on the roof. It was important to replace the roof as it gets older in older to prevent damage to other parts of the house, and to protect the contents inside. We removed all the shingles and replaced most of the plywood. Aluminum drip edges, ice and water shield was installed on the lower eaves at least two feet inside the warm wall of the building. It is important to install Ice and Water Shield to provide extra protection against wind driven rain and ice dams. GAF Timberline HD Shingle in Mission brown was used for this project. On each shingle, 6 galvanized roofing nails were used to ensure that they would stay in place. New pipe boot flashing was installed on all vent pipes and ridge vent was installed at the peaks to meet the full manufacturer's warranty requirements for exhaust venting. Once finished, the job site was swept and scanned for nails with a magnet, then inspected. The project took 3 days total to finish.
---
*Brand Used: GAF
---
*Service Used: Roof Replacement
---
Project Video
Music: A New Beginning from Bensound.com
Church Roof Replacement in Scotchtown, NY Project Gallery
---
Recent Articles
Common Signs That Indicate You Need to Replace Your Roof

Over time, your roof is bound to suffer some pretty nasty wear and tear, and in time, this wear and tear can put your roof past the point of no return. At that point, you'd have no choice but to get a roof replacement. How, though, can you know that you for sure need a…

Read More

Repair or Replace Roofing FAQ for Middletown

It can be a stressful decision when trying to figure out whether the roof can be repaired or if it needs to be replaced. Serrano II Inc. understands that you need an honest answer when it comes to the condition of your Middletown roof. Our professional roofing contractors will always be honest with you about your…

Read More

If you are looking for Roof Replacement services in Scotchtown, NY, call Serrano II Inc at 845-692-2226, or fill out our online request form.