Middletown Shingle Roof Construction & Replacement Services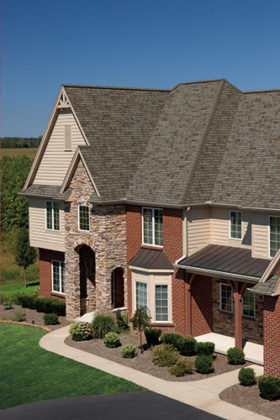 Whether you need a new shingle roof construction or a replacement in Middletown, Serrano II Inc is the company you can rely on. We are professional Middletown roofing contractors who offer a full line of services to commercial and residential customers.
The weather can do a lot of damage to a roof structure if the shingles aren't strong enough to handle it. This is why we work with quality shingles and products that stand up to the climate. Having a strong roof is vital, so making good choices when it comes to shingle quality is important.
Equally important is the roofing contractor you choose to handle the installation. On a new shingle roof construction or a replacement, the quality of the workmanship is vital. Being able to count on your roofing contractor is a must.
As second generation building contractors, you can count on our tradition of excellence over the last 48 years in the roofing industry. We hope you will give us the opportunity to show you why so many have trusted us with their roofing needs.
Shingle Roof Installations
Shingle Roof Replacements
Owens Corning® Preferred Contractor
All Forms of Insurance
Residential, Condo, HOA, Commercial
Middletown Shingle Roof Construction Contractors
Whether you are building a commercial pitched roof or residential, you'll need a roofing contractor who understands the roofing materials and is able to install them properly. Shingle roof construction can be extensive and complicated when the roofing system is larger and more complex.
Whether you are planning a small or large project, you can count on our expert roofers at Serrano II Inc to handle your Middletown shingle roof construction. We'll make sure the construction is handled correctly so you have a long-lasting watertight barrier against the weather.
Shingle Roof Replacement In Middletown
When it's time for a shingle roof replacement, you'll be looking for a roofing company to handle the work. Replacing the shingles on your Middletown roof can be interruptive and annoying because tearing off old shingles and replacing them takes time and produces quite a bit of noise.
Serrano II Inc has the experienced crew to handle the work quickly and efficiently. We work hard to minimize the annoyances that usually come with such a project.
For instance, we do all we can to keep your parking lots, entryways, or driveways clear so business can go on as usual. We have the number of crew members to handle larger projects. We understand safety measures and will ensure your roofing system is built according to national and local building code standards.
For high-quality workmanship, quality products, and service you can trust, call Serrano II Inc today.

If you need to hire a professional Middletown Roofing Contractor, call Serrano II Inc at 845-692-2226, or fill out our online request form.